Welcome to the Friends of Fort De Soto Website
Our mission is to provide community support for the preservation and improvement of Fort De Soto Park, through financial contributions as well as volunteer efforts.
Our focus is to promote public awareness of Fort De Soto Park, its special environment and facilities, and through improved communication and special projects to bring about an awareness of the need for historical and environmental preservation and conservation.
Fort De Soto Park is a breathtakingly beautiful group of small islands in the Gulf of Mexico at the mouth of Tampa Bay. We want to share its beauty and history with fans around the world. Join us!
Enjoy a picnic, walk the beach or go for a swim

Visit the Historic Fort

Bring your dog and visit the Dog Beach

Go birding!

Camp at Fort De Soto

Fish at the Bay or Gulf Piers

The Park now has four beach accessible wheel chairs that are free to use.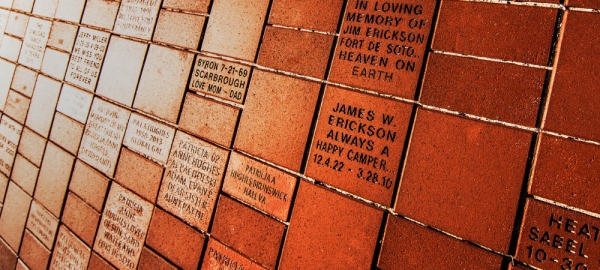 Honor your loved ones with a Memorial Brick. To help pave the way for enhanced Park projects and be a part of history, your commemorative brick will be placed at the base of the American flag which waves day and night at the entrance to the Park. Sizes are 4 by 8 and 8 by 8, with text or with text and artwork.
Click here to order your Memorial Brick.
Sec. 90-7. – Activities within county-owned or managed lands.
· (q) Aircraft. No person operating, directing, or responsible for any airplane, helicopter, drone, glider, hang glider, hot air balloon, dirigible, parachute or other aerial apparatus, including those radio controlled or otherwise unmanned, shall take off from or land in or on any county-owned or managed land, except for purposes of public safety or where written permission has been obtained from the administrator or designee.
Contact PC office 727-582-2100 for additional info.

What Our Visitors Are Saying
Fort Desoto park gives folks the chance to camp close to the best beach in the United States. That way you don't waste time every day driving there. Staff is great. Thanks Fort Desoto park folks!
Beautiful place, we went there as a church group to baptize our members. The place was clean, a family environment and a lot to see and do in the entire Park!
I have been going there for the past 15 years with my church every memorial day n i love it pastor thank u love u..
Was my first time been in Fort De Soto park and I love it.
I've been going there as a child my father used to take me and my brother there I have photos of some of them never forgot my cherished memories Tampa native wow I still love going there ,, always!!
It is by far my favorite place to be. I find my sanity walking the beach or just watching the waves.
For privacy reasons Google Maps needs your permission to be loaded. For more details, please see our
Privacy Policy
.
I Accept